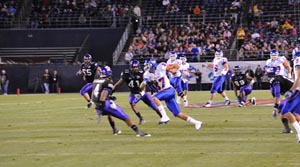 Stephen Hodge intercepted Boise State's Kellen Moore with under two minutes as the TCU Horned Frogs hung on to win the fourth annual San Diego County Credit Union Poinsettia Bowl, 17-16.
The Horned Frogs rushed for 278 yards on the ground, with RB Aaron Brown leading the team with 105 rushing yards and a touchdown. The Broncos were held to just 29 yards rushing for the game.
TCU quarterback Andy Dalton finished the game with 276 all-purpose yards, including 74 yards on the ground on his way to earning the game's Offensive MVP honors.
The Broncos took the opening kickoff deep into TCU territory before Kyle Brotzman's 30-yard field goal. After a strong defensive stand, Boise State got the ball back and marched down the field and increased their lead to 10-0 on an Ian Johnson 20-yard touchdown run. With his touchdown run, Johnson broke Marshall Faulk's Western Athletic Conference record for rushing touchdowns with his 58th career touchdown for the Broncos.

Brotzman added a 24-yard field goal to put the Broncos up 13-0. TCU got on the board late in the second quarter when Aaron Brown rushed for a 16-yard touchdown. The Horned Frogs had chances to add more, but two interceptions deep in Boise State territory killed their drives. Jeron Johnson intercepted a Jeremy Kerley pass at the Boise State 5-yard line to stop a TCU drive late in the first quarter. In the second quarter, TCU was driving again, but Byron Hout intercepted Andy Dalton deep in Boise State territory and returned it 62 yards to set up Brotzman's second field goal.
In Boise State's first possession of the second half, they drove 75 yards but lost a scoring opportunity when Brotzman's 38-yard attempt sailed wide left. TCU then took the ball over and drove 64 yards to set up a Ross Evans 32-yard field goal.
The Horned Frogs took their first lead of the game early in the fourth quarter after a 10 play, 80-yard drive that was capped off by Joseph Turner's 17-yard touchdown run.
Boise State responded immediately with a 9 play, 46-yard drive ending in Kyle Brotzman's third field goal of the game to bring the Broncos within a point at 17-16 with just under 5 minutes to go.
After forcing a TCU punt, the Broncos found themselves down by one at their own 17-yard line with just under two minutes to go. But on the first play of the drive, freshman quarterback Kellen Moore was intercepted by TCU senior safety Stephen Hodge as the Horned Frogs were able to spoil the Broncos' perfect season. Hodge was named the game's Defensive MVP.