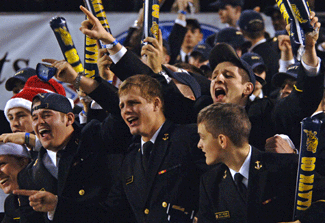 San Diego's Second Bowl is Born
The decision to bring a second bowl game to San Diego was not made lightly. Producing a second bowl within a week of the Holiday Bowl seemed unrealistic at first, given that it takes a full-time staff, hundreds of volunteers, and an entire year to plan a successful Holiday Bowl. But as the clock expired on the inaugural San Diego County Credit Union Poinsettia Bowl game between the Midshipmen of the United States Naval Academy and the Colorado State Rams in 2005, it was evident that San Diego had put yet another successful bowl game on the map.
In 2005, an agreement was reached between the Poinsettia Bowl and the Mountain West Conference in which the Mountain West runner-up would play in the Poinsettia Bowl. Over the years the Poinsettia Bowl has also established yearly agreements with independents Army (2006, 2013), Navy (2005, 2007, 2010, 2014), and BYU (2012), guaranteeing them a Poinsettia Bowl berth if they were bowl-eligible (6 wins). Because of the Mountain West's conference ties in San Diego, as well as the city's large naval contingent, it was no surprise that the game has attracted many local fans in addition to those traveling from outside the region.
After the first three games, the Poinsettia Bowl reached out and secured a two-year agreement with the Pac-10 Conference, which allowed the bowl to select the 7th place team from the conference in 2008 (if bowl eligible), and the sixth place team in 2009, with the Western Athletic Conference serving as the game's backup conference. When the Pac-10 was unable to qualify seven teams in 2008, the bowl secured the undefeated Boise State Broncos (12-0) from the WAC.
The 8th annual San Diego County Credit Union Poinsettia Bowl, which was played December 20, 2012 and featured the BYU Cougars and San Diego State Aztecs, generated an economic impact of $9.1 million.
The mission of the non-profit San Diego Bowl Game Association is to generate tourism, exposure, economic benefit, and civic pride for San Diego and its citizens by presenting the nation's most exciting and entertaining bowl games and festival of events.