Kaiser Permanente NCAA Football Clinic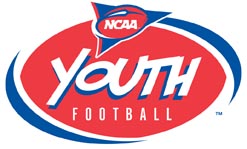 When: July 27, 2013
Time: 8:00 a.m. – 11:30 a.m.
Where: Qualcomm Stadium Rugby Fields
The San Diego County Credit Union Poinsettia Bowl and Kaiser Permanente have teamed up with NCAA Football to host a free youth football clinic on the rugby fields at Qualcomm Stadium. NCAA Football coaches will run the clinic for youth ages 5-14.

Registration begins at 7:15am on event day.

Online registration is now closed for this year's NCAA Football Youth Clinic.
*NOTE* - If you are still interested in attending the clinic, participants are encouraged to show up on event-day (July 27th) to see if there is room to sign up. If we have the room, we will do our best to accommodate additional participants.

Click here to view photos from the 2012 Clinic!
The event is part of NCAA Football's youth initiative program to promote college football to those that dream of playing the game. Youth will participate in offense, defense/agility and tackling/blocking drills run by university coaches. Youth participants will also hear from a keynote speaker on the fundamentals of being a good football player and great student-athlete, on the field and in the class room.