Landmark Aviation Team Luncheon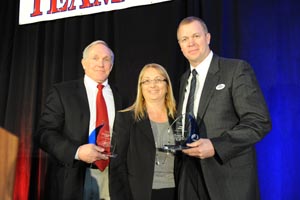 When: December 23, 2013
Where: USS Midway Museum





The Landmark Aviation Team Luncheon gives college football fans the once-in-a-lifetime opportunity to dine with the players and coaches on board the historic USS Midway on San Diego Bay. The luncheon begins in the hangar bay at 12 noon. After a delicious lunch, rousing speeches by the coaches and videos of the teams' seasons, take a self-guided tour of the historic USS Midway.
We encourage all guests to take the trolley to the Santa Fe Depot trolley station then walk 0.3 miles to the ship.
*Tickets will go on sale in Fall, 2013*

Limited parking is available on the pier and in ace parking lots adjacent to the ship.

Option 1: $10 to park on the pier.
Option 2: Hourly rate at ACE parking lot across the street.
Option 3: Take the San Diego Trolley, get off at Santa Fe station and walk .3 miles to the ship.

Cost:
Landmark Aviation Team Luncheon Ticket..................................................... $40
*Ticket Prices will increase to $45 on December 15th.
*A $2.00/event processing fee will be assessed to your order.

**NOTE: All orders placed after December 12th will not be mailed. If you placed your order after December 12th, then your tickets will be held for you at event Will Call, which will be set up at the entrance to the USS Midway on event-day. You are also welcome to pick up your tickets at the Bowl offices at Qualcomm Stadium Monday-Friday between 8:30am-5:00pm on any day before the event.