Bill Geppert Elected 2013 SDBGA President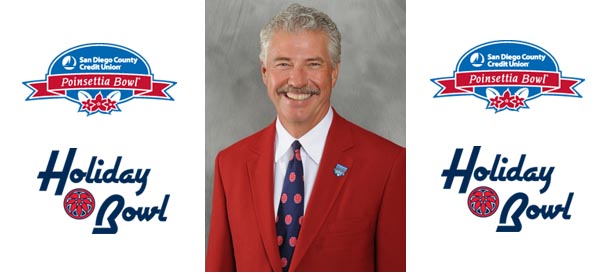 The San Diego Bowl Game Association's board of directors has elected Bill Geppert president of the 2013 Holiday Bowl and San Diego County Credit Union Poinsettia Bowl. He succeeds John Wertz, who becomes chairman of the board.
"This is going to be an exciting year for San Diego's two bowl games and for me personally," Geppert said. "I sincerely look forward to rolling up my sleeves and working side by side with a great group of civic-minded San Diegans – our RedCoats, to benefit our community."
The mission of the two bowl games is to generate tourism, exposure, economic benefit and civic pride for San Diego and its citizens by producing the nation's most exciting bowl games and festivals of events. Since 1978, the two games have combined to generate an economic benefit of more than $650 million for the San Diego region.
Geppert is no stranger to leading community organizations. He chaired The San Diego Foundation's Our Greater San Diego Vision, is a laureate for Junior Achievement of San Diego and is a board member of The Campanile Foundation, supporting San Diego State University, Sharp Healthcare, The San Diego Foundation, Turning Point Ministries and is chairman of Allure Global Solutions.
He also is past president and CEO of San Diego Regional Economic Development Corporation, as well as the past chairman of EDC and the San Diego Regional Chamber of Commerce. In 2002, he received the Starcom Award as San Diego's Businessperson of the Year by the San Diego Business Journal, and was recognized in 2003 as the YMCA Civic Leader of the Year. In 2006 he was the recipient of the UPAC Courageous Leadership Award, and in 2012 he was recognized as the Outstanding Fundraiser by the Association of Fundraising Professionals.
Geppert joined the association's committee in 2002, and was appointed to the board of directors in 2004.
In addition to his community involvement, Geppert is an avid golfer and cyclist. He retired in March 2011 as Senior Vice President and General Manager of Cox Communications' San Diego operations and a career spanning 35 years in the communications industry. With his wife of 34 years, Amy, he raised two children, Katie and Will.
Other 2013 elected officers for the San Diego Bowl Game Association include: Vince Mudd, president-elect; Kimberley Layton, secretary; and John Chalker, treasurer.