BYU Wins, Earns Berth in San Diego County Credit Union Poinsettia Bowl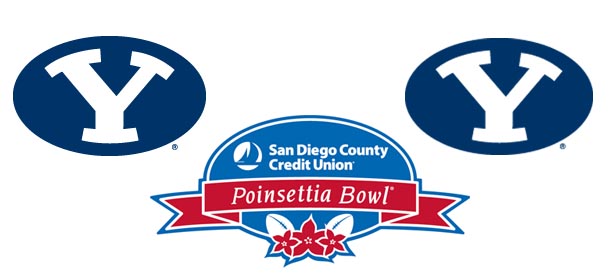 With their 52-13 victory over the Idaho Vandals Saturday night, Head Coach Bronco Mendenhall and the BYU Cougars notched their sixth win of the season, giving them a berth in the San Diego County Credit Union Poinsettia Bowl. The game kicks off at 5 p.m. on Thursday, December 20th at San Diego's Qualcomm Stadium.
"We are excited to receive the formal invitation to play in the 2012 San Diego County Credit Union Poinsettia Bowl. BYU has a storied bowl history in San Diego, dating back to the first Holiday Bowl in 1978, and we are looking forward to returning to Qualcomm Stadium," said BYU director of athletics Tom Holmoe. "We have a large fan base in Southern California, and San Diego is a great destination for a holiday season bowl game."
BYU has played in eleven Holiday Bowls, the last one being in 1993. They lost that game to the Ohio State Buckeyes 28-21. Their overall Holiday Bowl record is 4-6-1, the lone tie being a 13-13 defensive battle against the Iowa Hawkeyes. In the 1984 game, the Cougars defeated the Michigan Wolverines 24-17 to finish their season undefeated and clinch a National Championship.
"It's been 19 years since BYU last played in a San Diego bowl game," said John Wertz, president of the 2012 bowl game. "We can't wait to roll out the red carpet and welcome back some old friends to our city - the Cougars and their legions of fans."
With today's win the Cougars improved to 6-4 on the season. They play two games on the road to close out the regular season – November 17 at San Jose State and November 24 at New Mexico State. An agreement between BYU and the Poinsettia Bowl outlined terms whereas the Cougars would play in the 2012 bowl game if they became bowl eligible with six wins.
Heading into the weekend, BYU ranked 4th nationally rank in total defense, allowing just 263.6 total yards per game. The Cougars also hold six other major top-10 defensive rankings including: No. 1 in red zone defense (allowing 54.55 percent), No. 3 in third down defense (allowing 25.60 percent), No. 5 in first down defense (15.1 first downs/game allowed), No. 6 in scoring defense (14.3 points/game allowed, No. 7 in rushing defense (95.78 yards/game allowed) and No. 9 pass defense (167.78 yards/game allowed).
The BYU offense entered the weekend averaging 26 points and 381 yards per game. The Cougars' balanced attack (218 yards passing, 163 yards rushing) is led by senior quarterback Riley Nelson (206 yards passing), junior wide receiver Cody Hoffman (77 receiving yards per game) and freshman running back Jamaal Williams (57 rushing yards per game). Hoffman entered the weekend owning the nation's 10th longest reception streak with a catch in 28 consecutive games.
This will mark the 31st bowl appearance in the program's history. They are 12-17-1 in bowl games. Most recently they defeated Tulsa 24-21 in the 2011 Bell Helicopter Armed Forces Bowl.
BYU's opponent will be a team from the Mountain West. The Poinsettia Bowl gets the second selection of bowl eligible teams from the conference. The MAACO Bowl Las Vegas has the first pick.
Tickets for the 2012 San Diego County Credit Union Poinsettia Bowl can be purchased by calling TicketMaster at 800-745-3000, or visiting www.poinsettiabowl.com.