San Diego County Credit Union Poinsettia Bowl Secures BYU as Participant in 2015 Game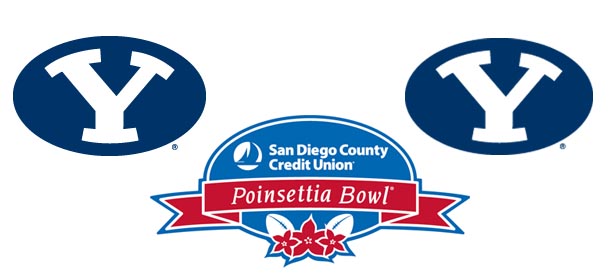 Brigham Young University will play in the 2015 San Diego County Credit Union Poinsettia Bowl with a six win or better regular season, San Diego Bowl Game Association Executive Director Bruce Binkowski announced today.
"We are proud to have the Cougars locked in for our 2015 game," Binkowski said. "BYU played a significant role in the growth and success of the Holiday Bowl. Last year we began a new tradition when the Cougars played in the SDCCU Poinsettia Bowl for the first time. We have a long-standing relationship with the University and its loyal fans. Looking down the road and knowing they will be back in San Diego is a win-win for everyone."
The Poinsettia Bowl is currently in discussions with the Mountain West to continue its partnership through the 2019 game. The Mountain West has served as the anchor conference for the Bowl since the inception of the game in 2005.
BYU was in southern California just last season when it played in the 2012 SDCCU Poinsettia Bowl. The Cougars took advantage of two defensive touchdowns and 20 fourth-quarter points to defeat San Diego State, 23-6, in the eighth annual game. In one of the most impressive defensive performances in bowl history, BYU linebacker Kyle Van Noy was in the middle of everything as he recorded 8 tackles, 1.5 sacks, 3.5 tackles for loss, a forced fumble and a fumble recovery for a touchdown, a 17-yard interception and return for a touchdown, and a blocked punt.
While the Cougars made their first appearance in the Poinsettia Bowl in 2012, they are no strangers to the postseason in San Diego. BYU participated in the first seven Holiday Bowls and then returned four more times between 1988 and 1993. In those 11 appearances, the Cougars notched four wins against six losses and one tie. In the 1984 Holiday Bowl, they defeated the Michigan Wolverines to cap an undefeated season and a National Championship.
"We had a fantastic experience at the Poinsettia Bowl in December and are excited to return in 2015," said BYU director of athletics Tom Holmoe. "San Diego has hosted some of the great football moments in our program's history and I'm excited for our large fan base in Southern California to have other opportunities to see us play in person."
The 2013 SDCCU Poinsettia Bowl, featuring a bowl eligible Army team against an opponent from the Mountain West, kicks off at 6:30 p.m., Thursday, Dec. 26th at Qualcomm Stadium. Tickets may be purchased by calling TicketMaster at 1-800-745-3000 or by visiting TicketMaster.com.